Sustainable Fashion Mobile App
Project Overview
This group project was part of a 10-week User-Centered Design Research Methods course at Brandeis University.
My Role: Research, Usability Testing, Presentation
Platform: iOS App
Tools: Figjam, Figma
Teammate: Janaye Rooney
Mentor: Dianna Harrelson
The Challenge
The recent boom of the secondhand clothing market has been fueled by growing consumer demand from online clothing resale (OCR) platforms. Researchers believe the secondhand clothing trend has the potential to reshape the fashion industry and mitigate the industry's detrimental environmental impact on the planet. Our challenge was to research the behaviors and attitudes of shoppers regarding clothing consumption.
Based on this research, we would design a OCR mobile app to promote sustainable consumption, reduced production, and changed consumer behavior.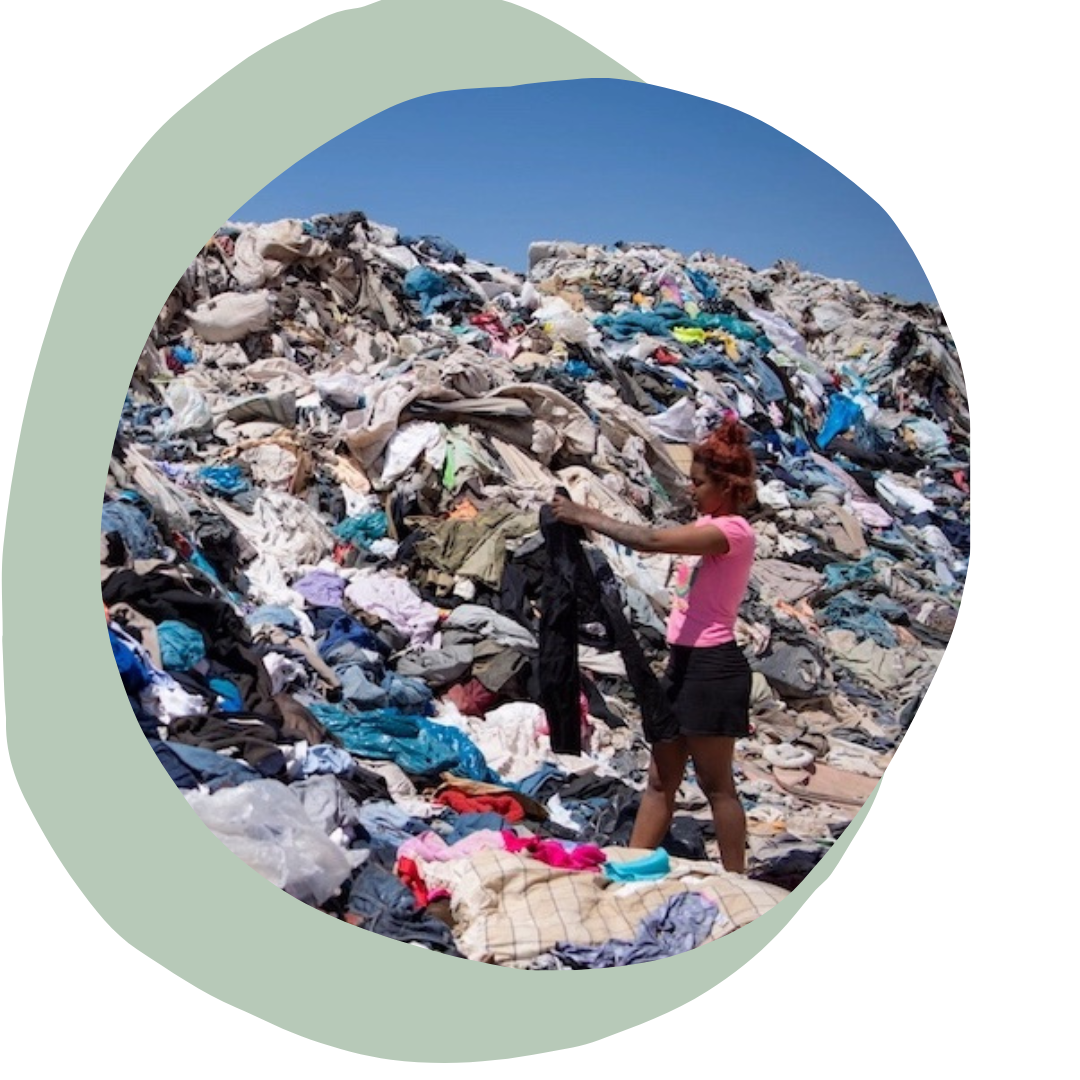 Problem
"Fast Fashion" refers to the production of inexpensive and mass produced clothing.
Textiles account for 10% of global CO2 emissions each year

Fast fashion contributes to the exploitation of workers

Discarded low-quality clothing made from non-biodegradable synthetic materials occupies roughly 5% of landfill space
Hypothesis
If we build a solution that focuses on educating customers on sustainable practices, we can positively influence customers to practice sustainable shopping habits.
If we build an OCR platform that solves current users' needs and capitalizes on motivations, we can continue positively impacting the resale industry.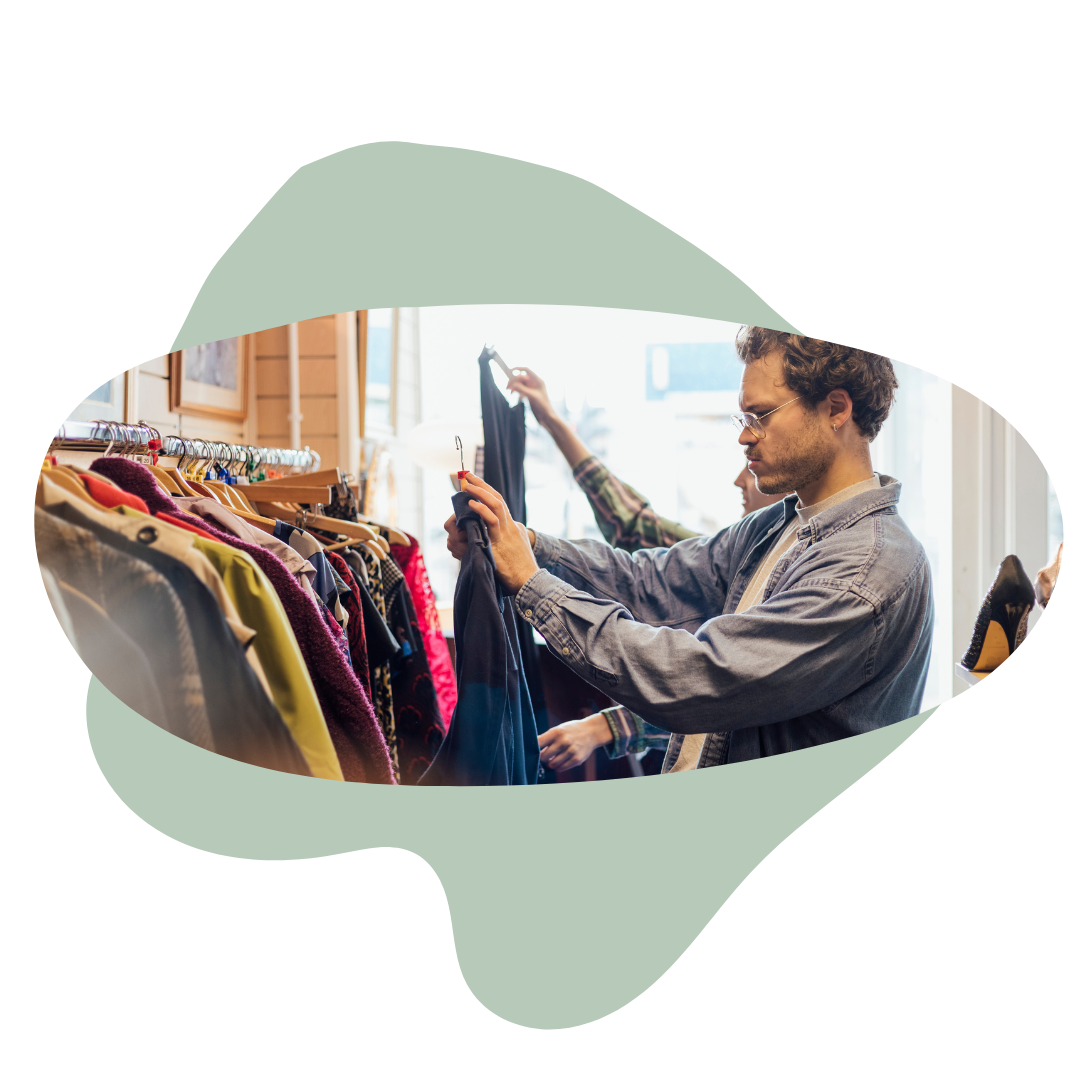 Significance of this Study
Environmental Benefit
Climate Researchers believe increased secondhand clothing consumption can reshape the fashion industry and help mitigate environmental impact.
Rapidly Growing Market
The resale clothing market has grown 21x faster than the new apparel market in the last three years. The secondhand market is projected to double in the next five years, to hit $51 billion.
Process, Timeline & Deliverables
This project was shaped by the principles of the design thinking methodology. We used design thinking to discover problems and come up with creative solutions by thoroughly understanding their users' goals, frustrations, and end-task. We followed these five steps:
Empathize - understand the needs of the users

Define - state the users needs and problems

Ideate - come up with innovative ideas

Prototype - start creating solution

Test - test solutions with users

Implement - present findings and recommendations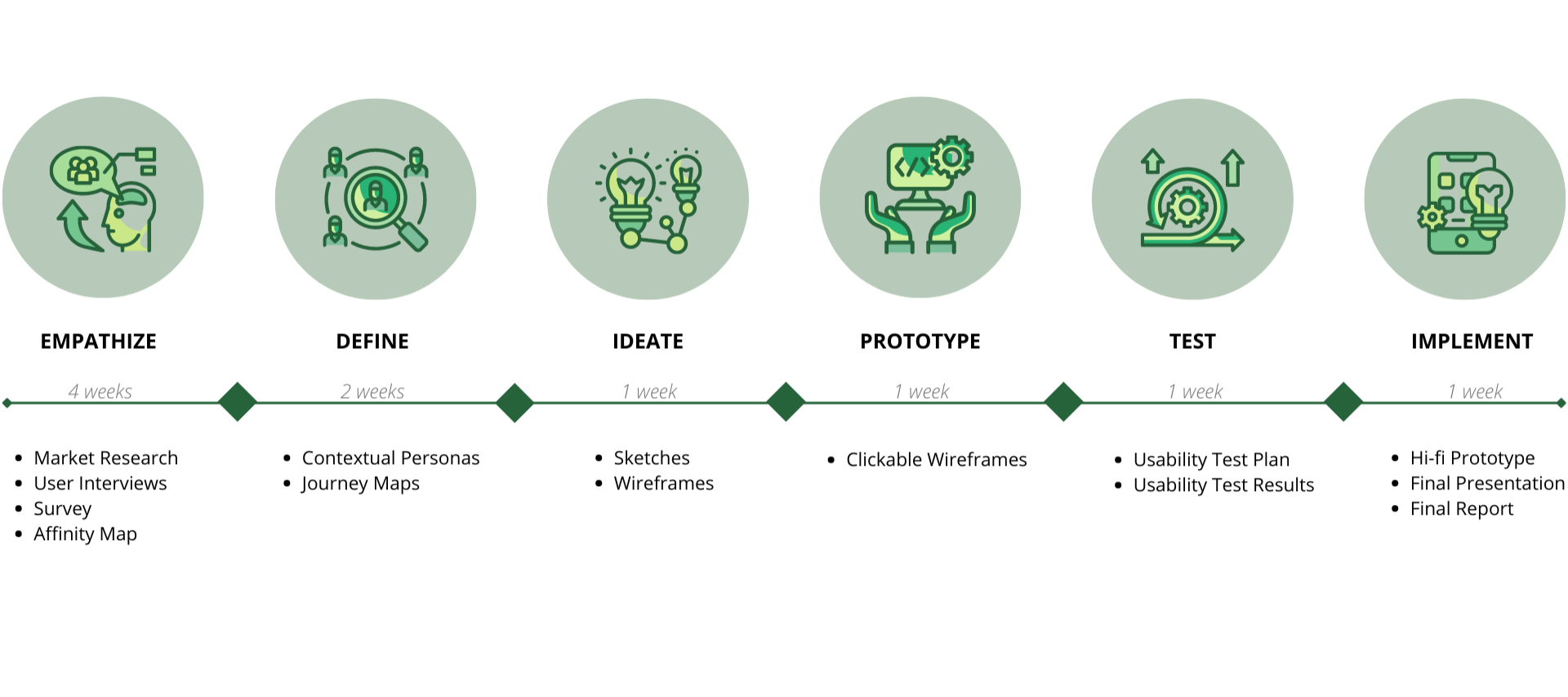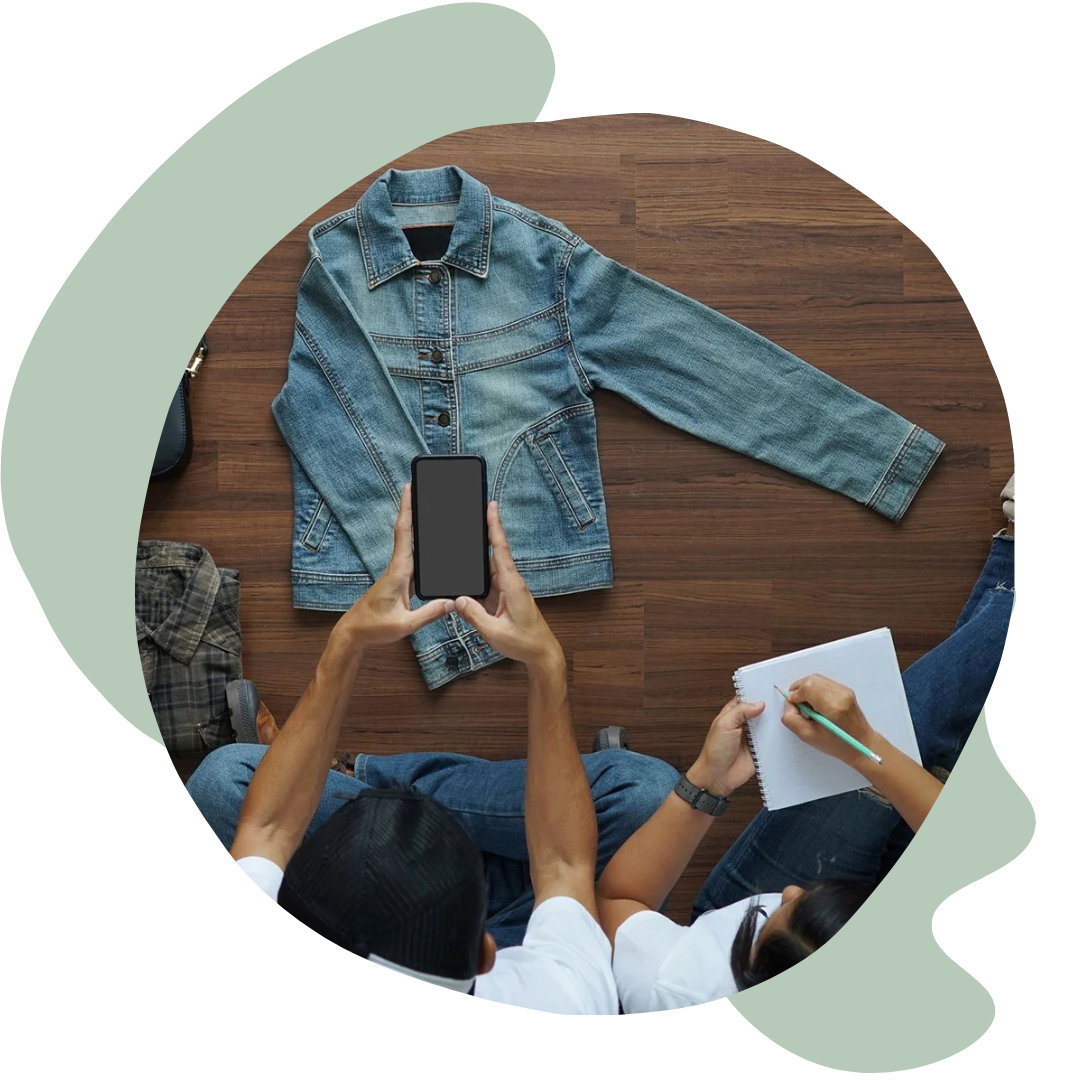 Research Goals
Discover unmet needs of OCR platform users
What are the current and future needs of people who currently or might use OCRs, and why do they have these needs? And how are these needs being met or unmet today?
Uncover strategies to facilitate OCR platform use and adoption
What are valuable strategies and technologies to help facilitate "circular fashion" trends? How can we make buying selling used clothing online more accessible and more desirable?
Research consumer understanding of sustainable fashion practices
What are the barriers to consumer understanding and adoption of "sustainable fashion"?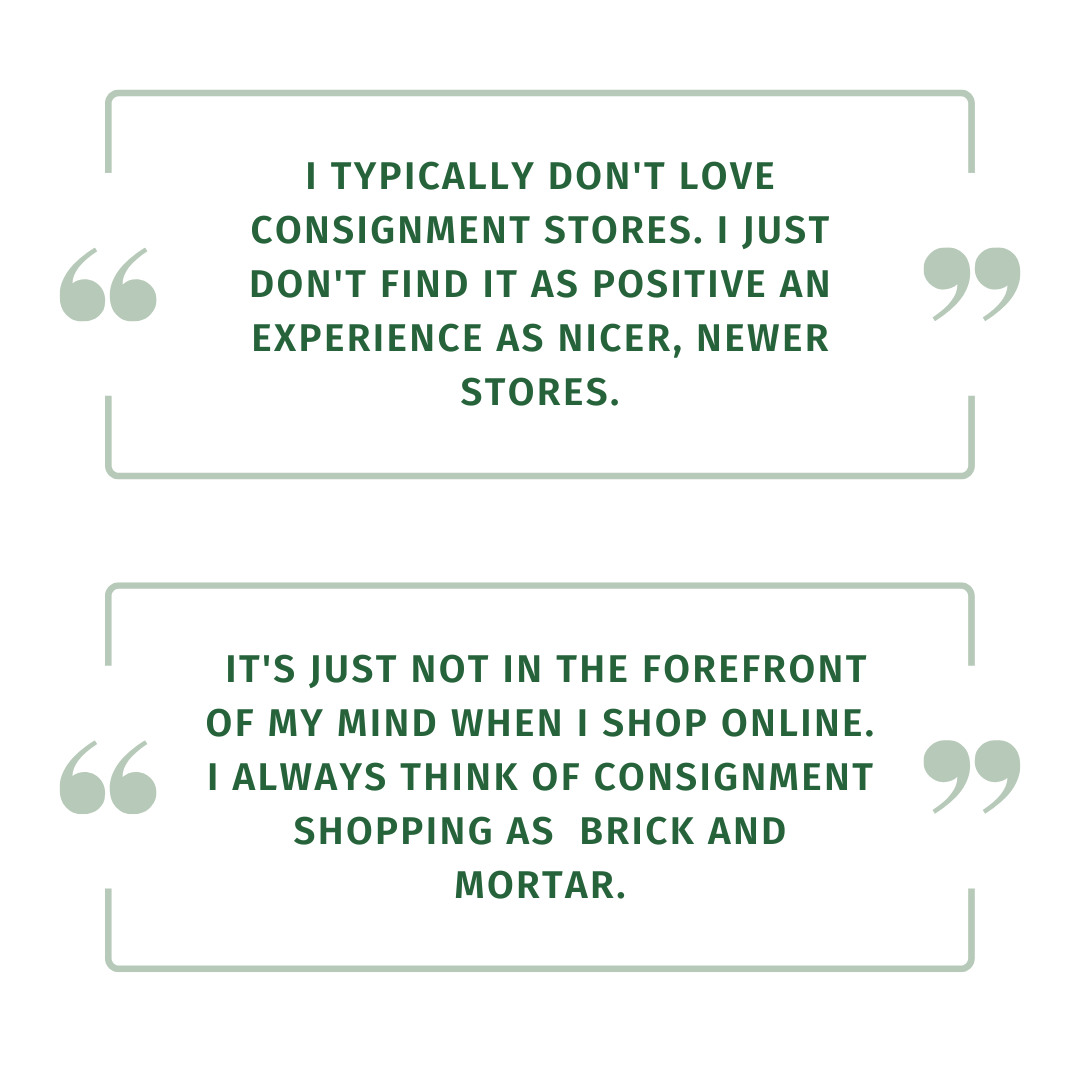 Interviews
We began our exploratory research by conducting moderated, remote interviews with two participants. Participants were selected through an online screener survey. We interviewed participants who shop for clothes on a somewhat frequent basis (once every two months, minimum) and have some second-hand shopping experience.
The interviews were recorded, transcribed, and coded in oder to quickly identify relevant data and reoccurring patterns.
Interview Objectives
What are the current and future needs of OCR platform users

How are these needs being met or going unmet today?

What are strategies and technologies to help facilitate "circular fashion"?

What are the barriers to consumer understanding of "sustainable fashion"?

What are the barriers to consumer adoption of "sustainable fashion"?
Survey
In order to determine what further questions needed to be answered in our research, we conducted a gap analysis. To answer these research gaps will created formative survey to triangulate interview data and fill any gaps.
10 Questions | 42 Responses
Survey Insights
While most participants reported that they had purchased second-hand clothing online (60%), far less reported ever having sold any clothing online (30%). This points to an underlying issue with consumers mostly using OCR platforms for consumption of clothing rather than reselling their own clothing.
Most participants (66%) who shop for secondhand clothing online reported having a mostly positive experience. Improved return policies, quality assurance, and consistent photography of items would improve their experience of shopping second hand online.

Affinity Diagram
After collecting survey data, we analyzed and triangulated the results alongside interview data. This allowed us to cross-validate findings and facilitate exploration of issues that influence the decision making process of users.
We created an affinity diagram to organize and categorize the qualitative information gathered about users.
Users have high expectations when it comes to online shopping.
Consumers reported frustrations with finding specific items, availability of various styles, photo quality, and inconsistent sizing when shopping from an OCR platform.

Consumers are accustomed to incentives like free shipping and returns.
Users care somewhat about sustainability, but it's not their primary motivation.
Less than half of survey respondents (44%) cited environmental reasons as their motivation for shopping secondhand.

Interviewees do not see sustainability as a primary selling factor.
Users choose big-brand retailers due to their market dominance and availability.
39% of survey respondents cited "purchasing new clothing is more accessible" as their primary reason for not shopping from an OCR.

34% of survey respondents said they "don't know where to shop" for secondhand clothing.
Users want to save money, but feel frustrated when they have to sacrifice quality for price.
Saving money is a top motivation for users to shop second-hand.

Fast-fashion brands also attract consumers due to their low prices; however, consumers feel frustrated by the low quality of fast-fashion clothes.
Users are more likely to purchase secondhand clothing online than they are to sell secondhand clothing online.
Most (60%) of participants had purchased secondhand online. Far less (30%) reported ever selling secondhand online.

Participants were more likely to sell secondhand at brick and mortar stores.
A major frustration with OCR platforms is the lack of standardization of photos and sizes of clothing.
OCR platforms lack the ease of use that regular shopping sites/apps have.

Subjects reported frustrations with finding specific items, photo quality, inconsistent sizing.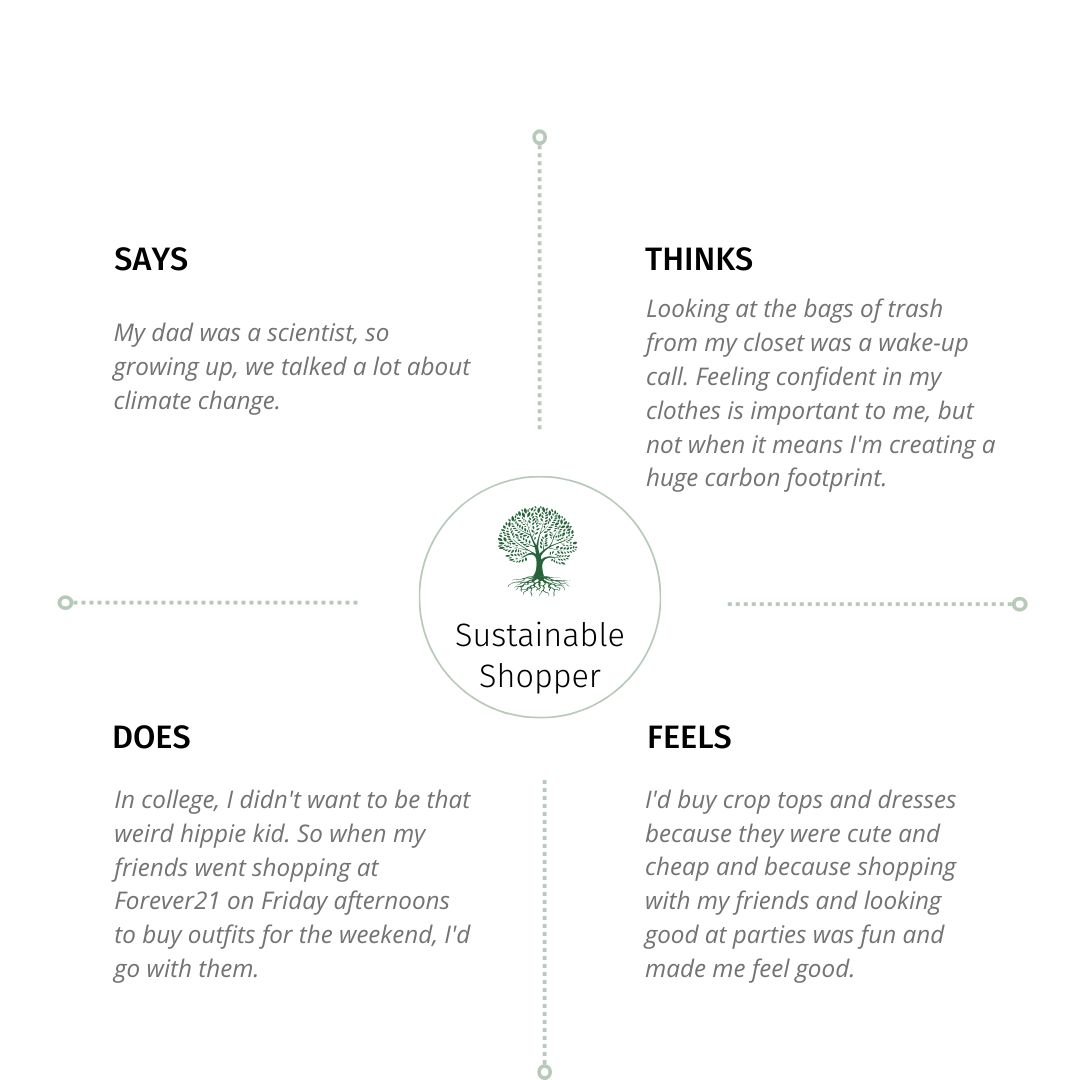 Personas
Based on our user research through interviews, surveys, and affinity mapping, we developed two contextual personas and empathy maps. We would refer to these personas thought the design process.
The Sustainable Shopper
Needs - "I like to go to thrift stores or local shops. If there were an easier way to shop for secondhand clothing online, I would make the effort to shop there."
Pain Point - "I wanted to donate everything, but most of the things I found were falling apart, even though I had only worn them a few times, so I had to throw them away."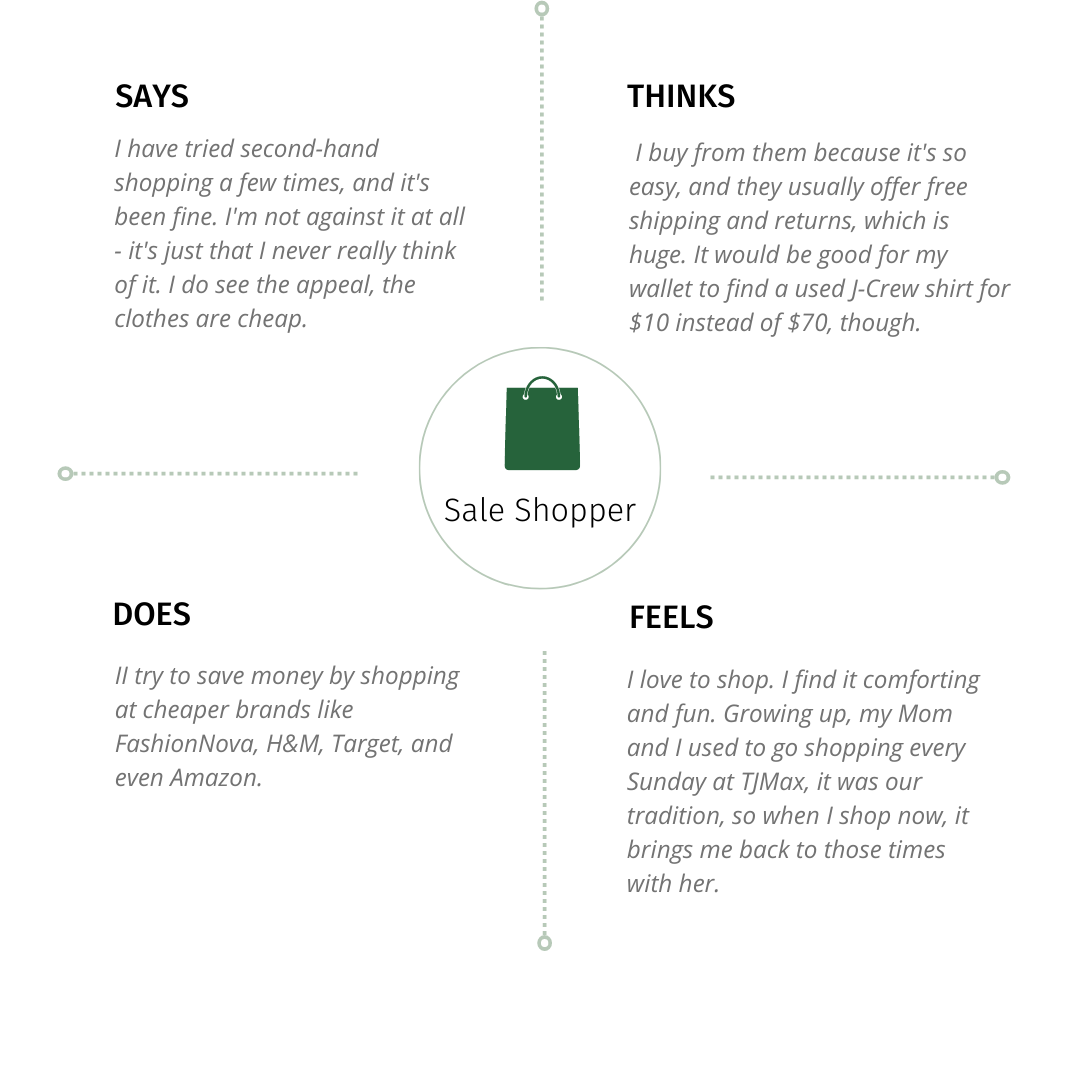 The Sale Shopper
Need - "I need a fast and easy way to shop online for specific items with an easy return policy. I'm on a tight budget so I'm always on the lookout for a sale or a thrifted piece in good condition."
Pain Point - "I spend too much money on clothes, but I don't want to stop shopping, because shopping brings me joy. I get frustrated because their clothes aren't great quality and never last that long. I don't even think about looking anywhere else."
Journey Map
We mapped out the steps my personas might take while while shopping for clothing. There were several pain points for each persona:
Sustainable Shopper is looking for professional work attire for her new job. She spends hours digging through clothing racks at thrift stores but only finds a couple items in her size.
Sale Shopper often gets ads on her social media for cheap "fast fashion" clothing. She can't pass up a good deal so she buys several items. She is disappointed when the clothing she buys doesn't meet her expectations and she is unable to return it.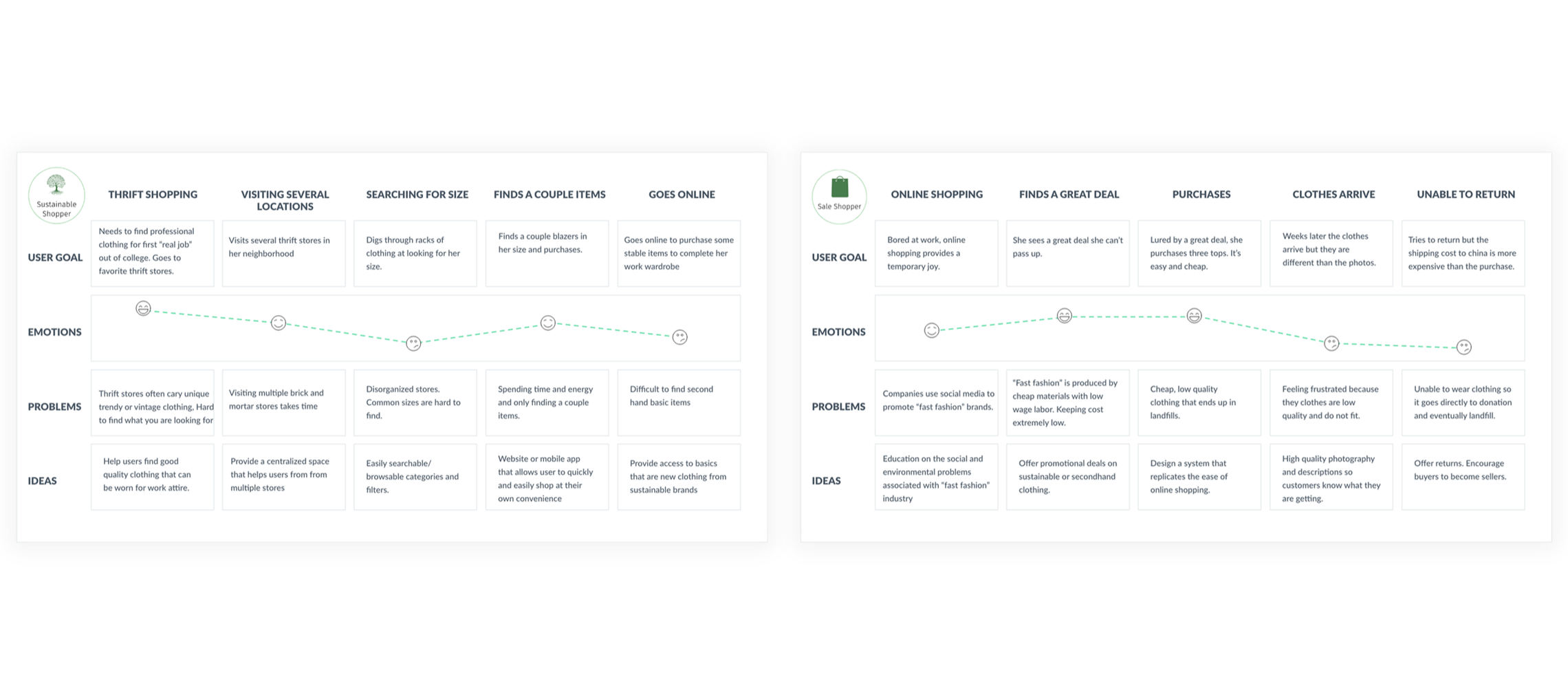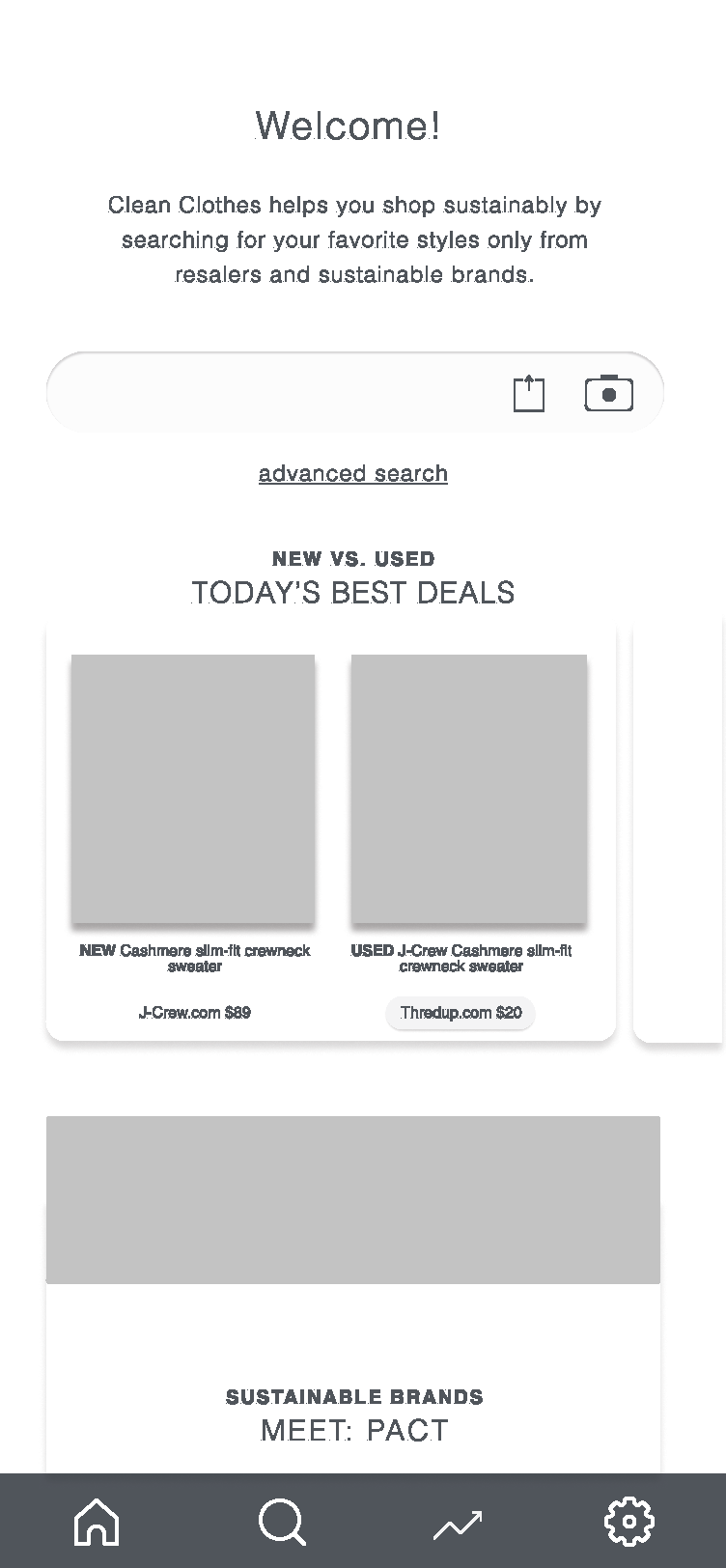 Initial Wireframes
After we concluded our research, we began to design solutions that would address the challenges of the personas. We created our initial wireframes in Figma.
There are already many OCR platforms that exist, and collectively they have a mass amount of inventory. Users cited difficulty finding the styles and sizes they desired, so our initial tested designs aimed to create a search tool that allows users to perform advanced searches cross-platform.
Based on our research, we knew we needed to focus on:
Providing an easy way for consumers to fins the specific styles and sizes they desire.
Help sellers market their user clothing more effectively by taking better photos of clothing and offering incentives like free shipping and free returns.
Educate the users about the detriments of "fast fashion" to reshape thinking and encourage circular fashion trends.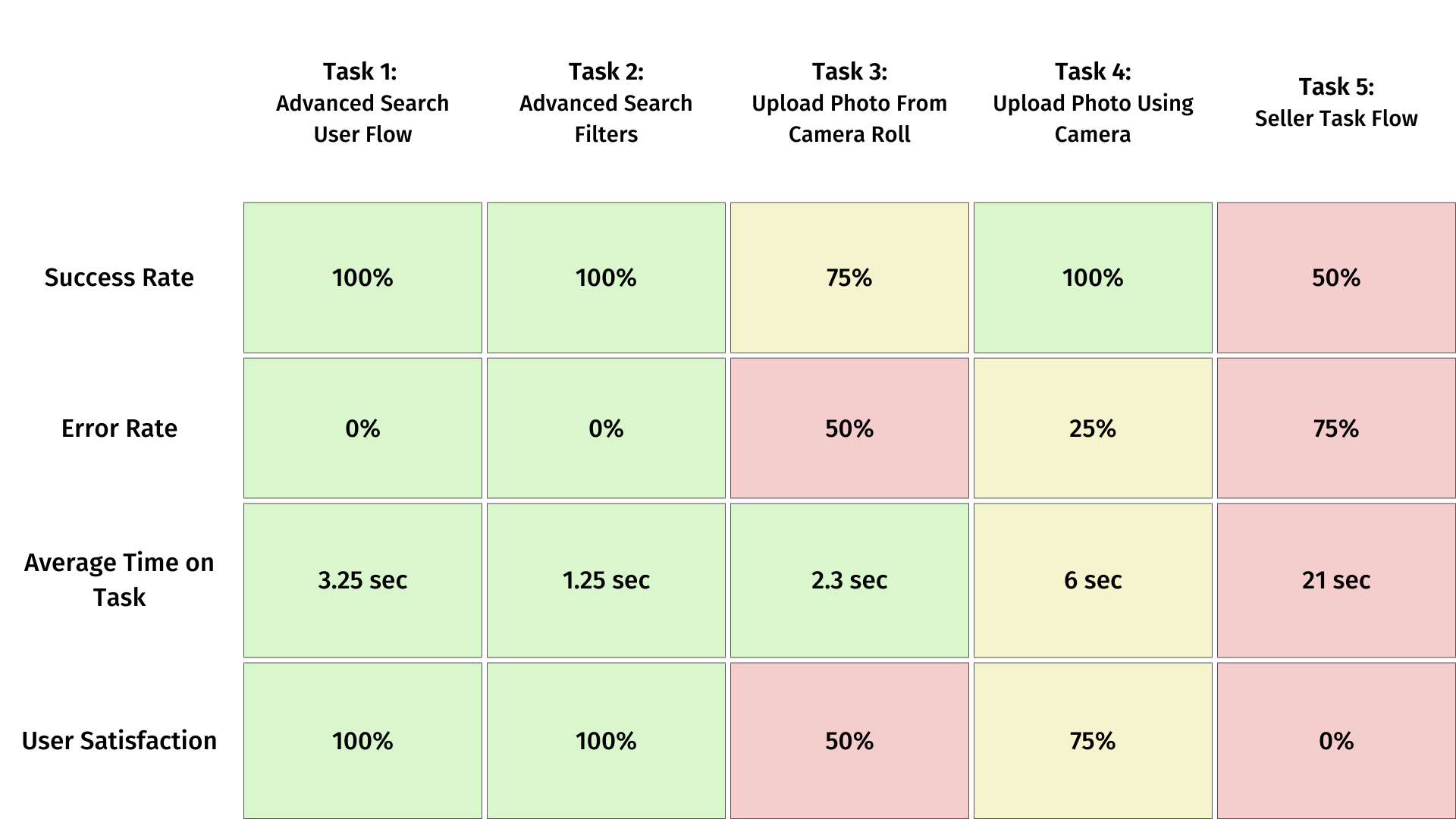 Usability Testing
We then conducted four remote moderated usability tests using a clickable prototype of four low-fidelity mobile screens. The goals of these initial usability tests were to test initial assumptions, establish a baseline of user performance, establish and validate user metrics, and identify potential design concerns to be addressed in order to improve further design iterations.
The users who participated in the usability tests were within the target demographic and all had familiarity and previous experience with buying and selling secondhand clothing online.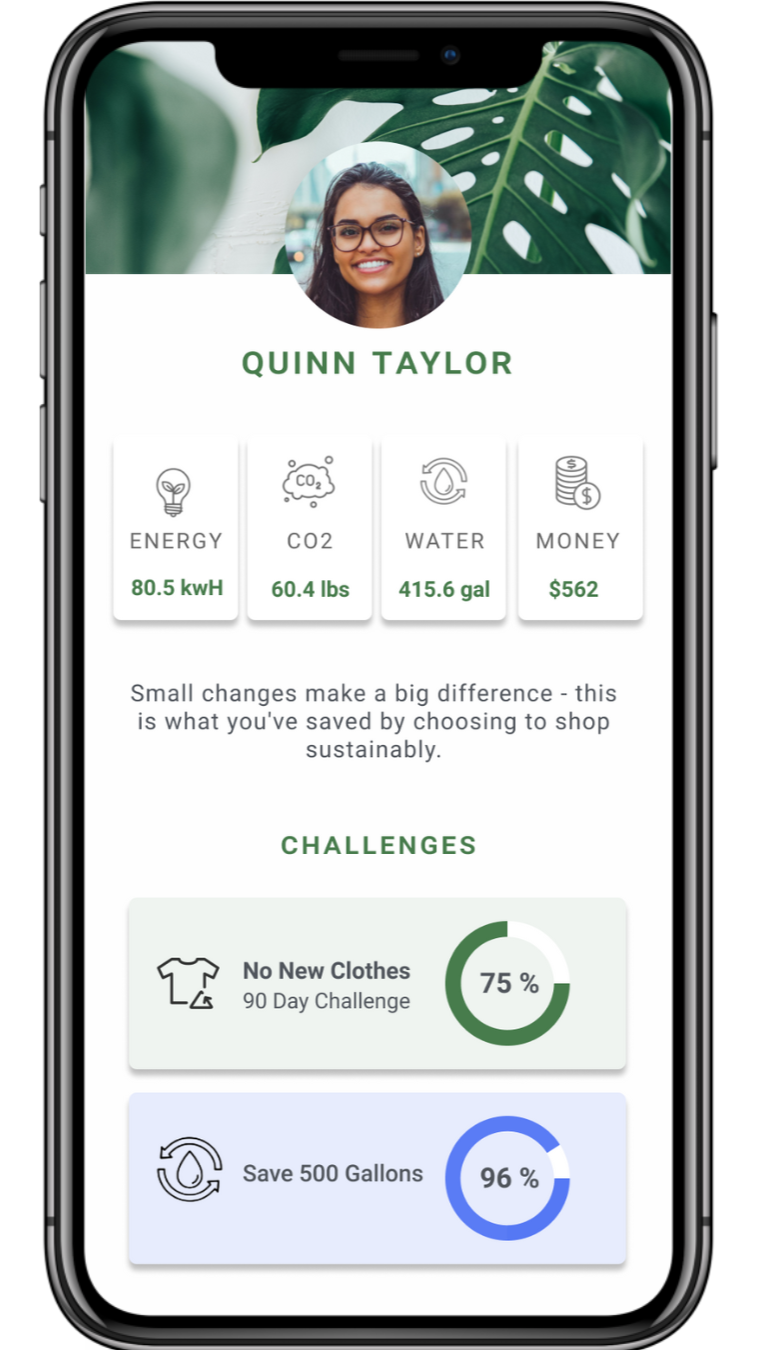 UI Design
We updated the screens to reflect results of usability testing. We created high-fidelity mockups in Figma.
Based on the recommendations made in the Usability Test Key Findings report, we made the following changes to the design:
Search feature prominence. All participants first commented on the "new versus used" section. Because we want users to focus on search functionality first, we redesigned the home page to make the search feature the most prominent.
Improved onboarding experience. Tool tips were not effective at explaining the app's functionality. We designed an interactive onboarding experience spread over several screens to avoid text overload.
Intuitive buttons and iconography. Users struggled to recognize the functionality of different icons. We added labels to icons and included an explanation of the icons during onboarding to help mitigate this problem.
Improved search features. We added "quality" filters which are standard on resale sites. We also added filters to the search results page to improve the app's user experience.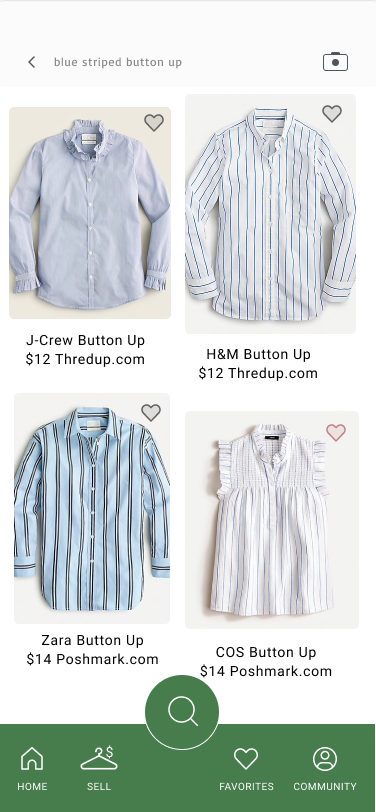 Personal Reflection
Personally, I feel that I gained experience and confidence in my UX Researching skills, specifically conducting interviews and usability tests. I value the experience of being able to practice these research methods and their processes.
I also learned a lot about the importance of the interview process and how it can help us better understand our users. I have always believed that user research is important to any project but after this course, I now understand how crucial it is to do it well. We took the time to transcribe and code our interviews, which helped to distill the information into valuable insights.
I also enjoyed learning about building products that encourage sustainable habits. Becoming part of a solution requires actively transforming self-perceived wasteful habits into sustainable habits. It requires shifting attitudes and making better decisions in the moment around what people buy, how they buy it and where it comes from. It starts with each person looking inward and taking control over their own day-to-day decisions.
Project Deliverables