Learning Management Systems in Higher-Ed
Project Overview
This solo project was part of a 10-week Capstone in User-Centered Design course at Brandeis University.
My Role: UX/UI, Research, Usability Testing, Stakeholder Presentation
Tools: Balsamiq, Miro, AbobeXD
Platform: Web-Based Learning Management System (LMS)
Mentor: Elizabeth Rosenzweig
The Challenge
Digital platforms such as Learning Management Systems (LMS) will take on an important role in the future of education. While LMS platforms are essential for online classes, they are often underutilized by professors who teach face-to-face courses. I began the project by conducting research to uncover the perceived barriers to entry and pain points for these users.
By understanding and addressing these challenges, I designed a solution to make it easier for professors to utilize LMS platforms into their in-person teaching methods.
Learning management systems (LMS) are online platforms where instructors and learners can collaborate.
LMS platforms make it possible for instructors to distribute assignments and resources for students to access digitally. They also offer features that enable students to submit work and get feedback on assignments. Essentially, learning management systems allow instructors to organize and optimize their entire class process.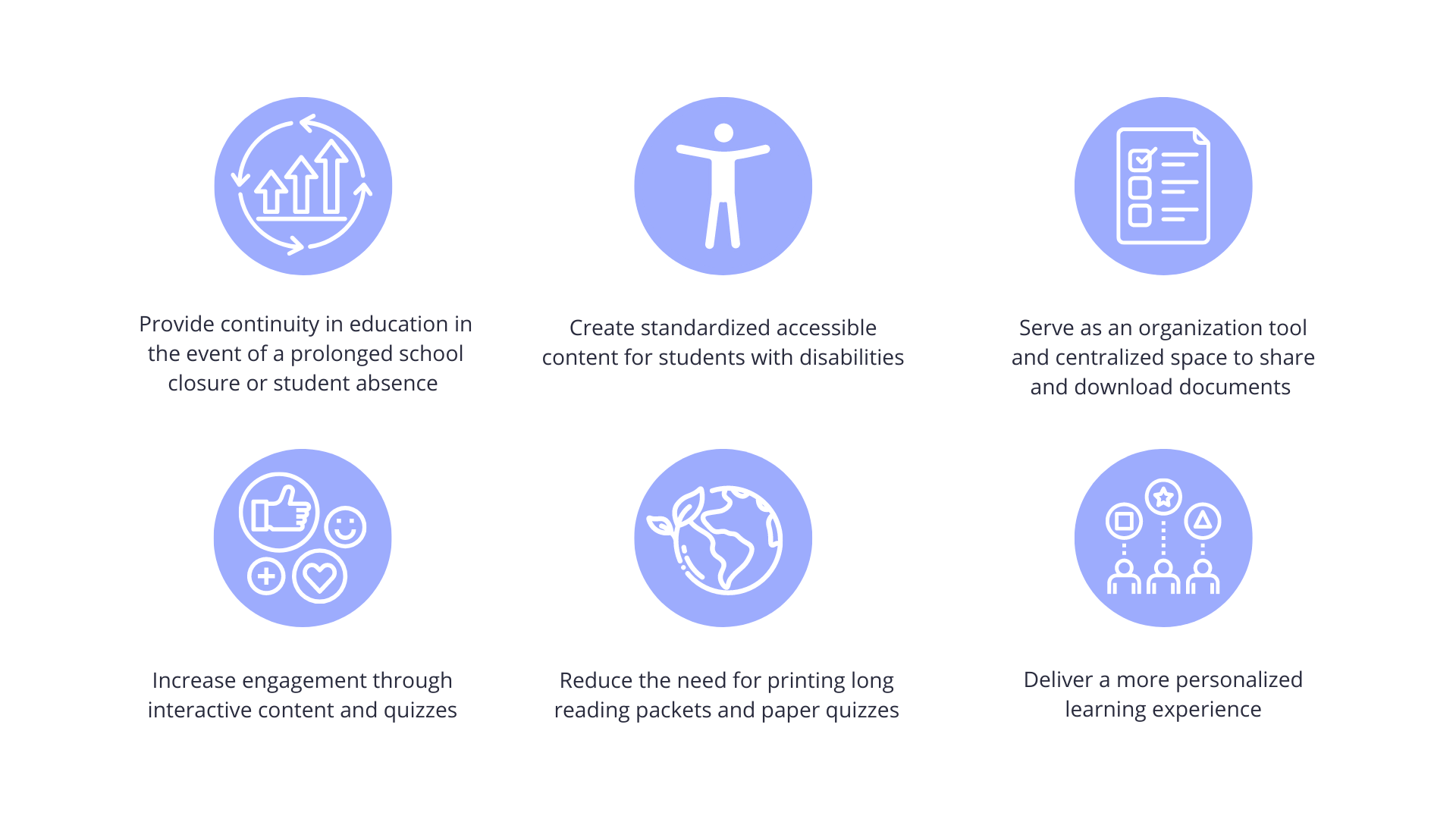 The pandemic impacted virtually every industry and few more so than education.
Professors who had delivered in-person lectures for years were forced to completely reorganize their lessons while simultaneously having to figure out how to teach virtually. It created an added burden for faculty and impacted the student experience. This moment highlighted the importance of usability of learning management systems from the perspective of the faculty whose entire teaching experience now relied on this platform.
My design process for this project was shaped by the principles of the design thinking methodology. Design thinking is an approach to problem solving that encourages exploring creative and innovative solutions to problems. It helps me to keep a solution-focused mindset within every phase of the project.
I used the Double Diamond approach to understand users and their problems, explore creative and innovative ways to solve them, and identify the right approach for each step along the way. The Double Diamond is a framework that helps you approach problems using two different types of thinking: divergent and convergent.
Divergent thinking — think broadly, keep an open mind, consider anything and everything

Convergent thinking — think narrowly, bring back focus and identify one or two key problems and solutions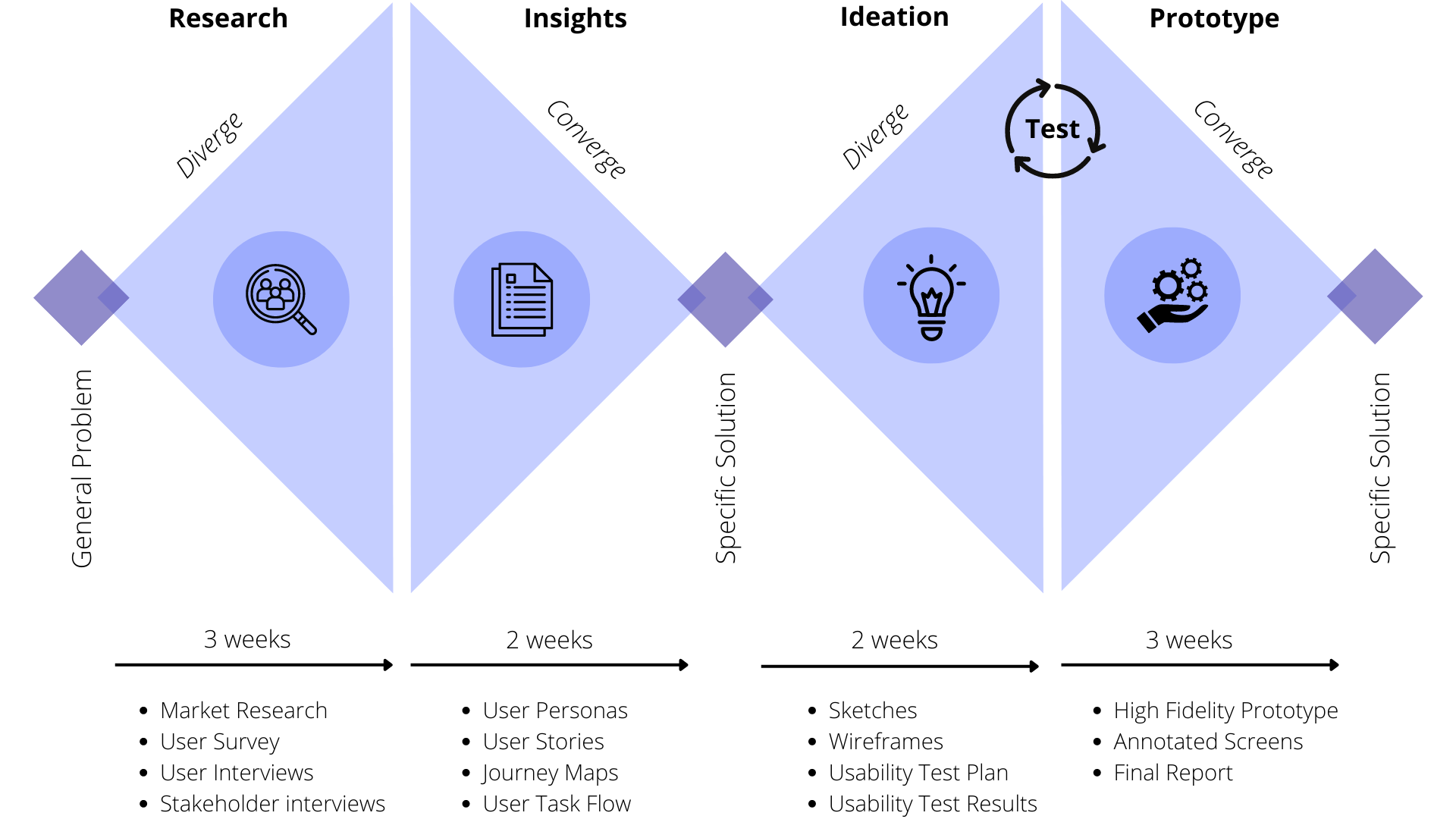 PART I
Exploring the Problem Space
In part one of my project, I began my research on LMS platforms and their users. The goals of this research were to gather information about the experiences, needs, pain-points, and barriers experienced by faculty who use these platforms.
Market Research
I started by conducting market research to better understand the top products and the marketplace. To do this, I read and analyzed online reviews of the most popular LMS platforms in higher education; Blackboard, Canvas, and Moodle.
I compared the top products based on various criteria and features. This allowed me to identify common likes and dislikes across the three platforms.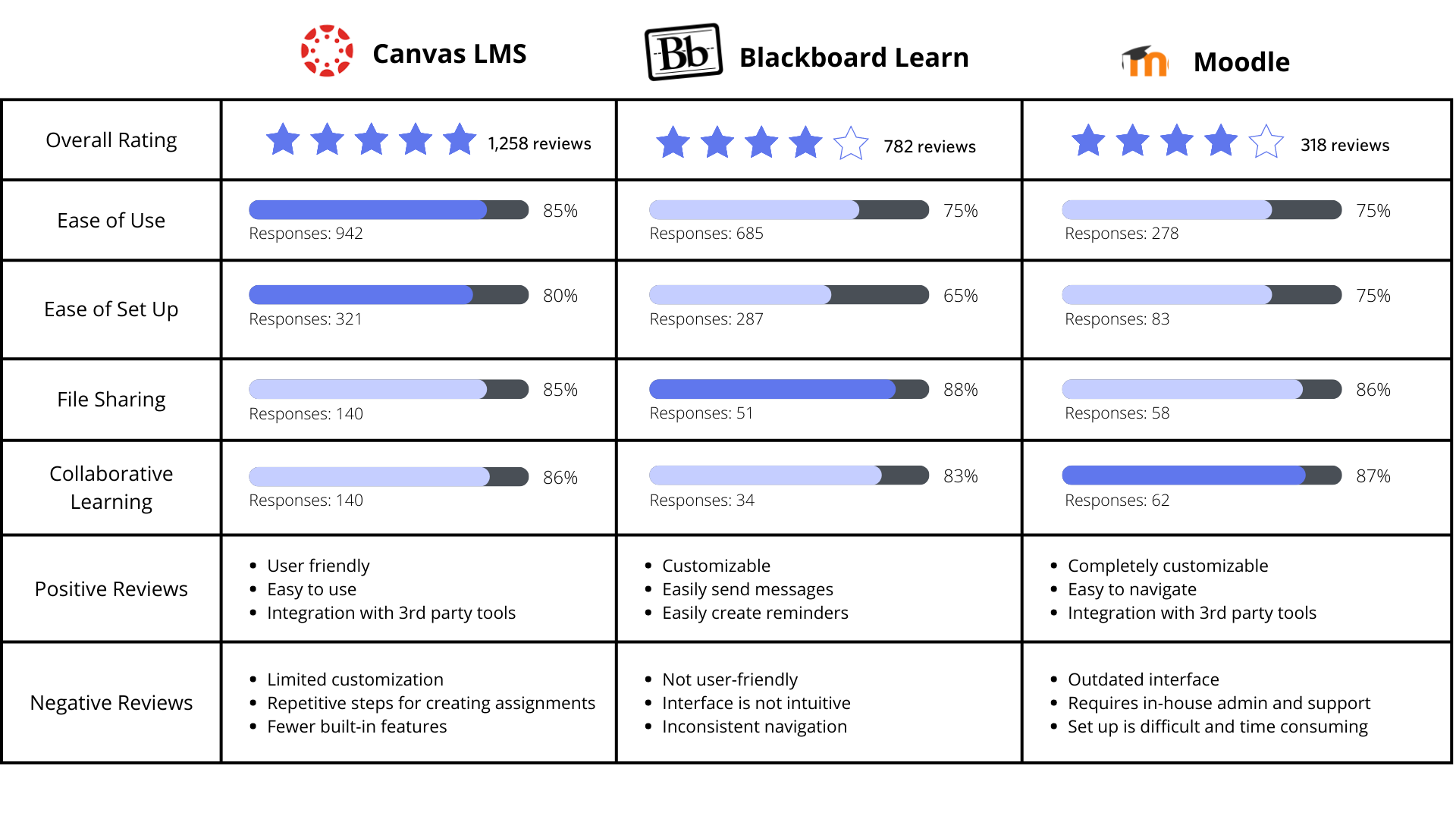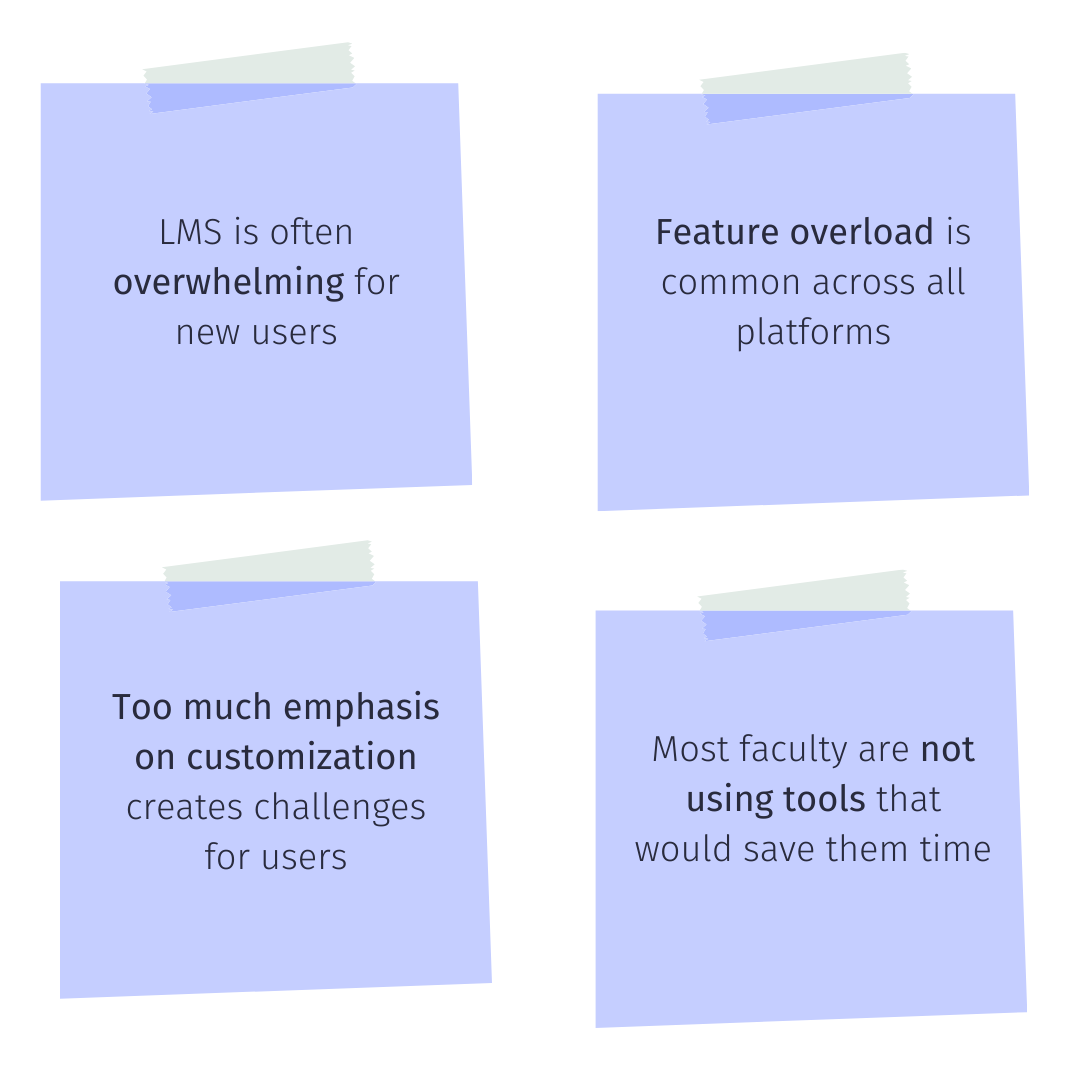 User & Stakeholder Interviews
The second step in my research process was conducting user and stakeholder interviews. I spoke with three faculty members from various universities about their experiences using LMS. I also spoke with three IT/LMS admins to understand system requirements and common issues.
Interview Objectives
How are LMS used during in-person teaching?

How do faculty members currently perceive their LMS?

What are the biggest challenges using LMS for in-person teaching?

What were the technology needs and limitations to the LMS for adapting in-person teaching?

How could the LMS experience be improved for in-person teaching?

What design solutions to LMS could benefit in-person teaching?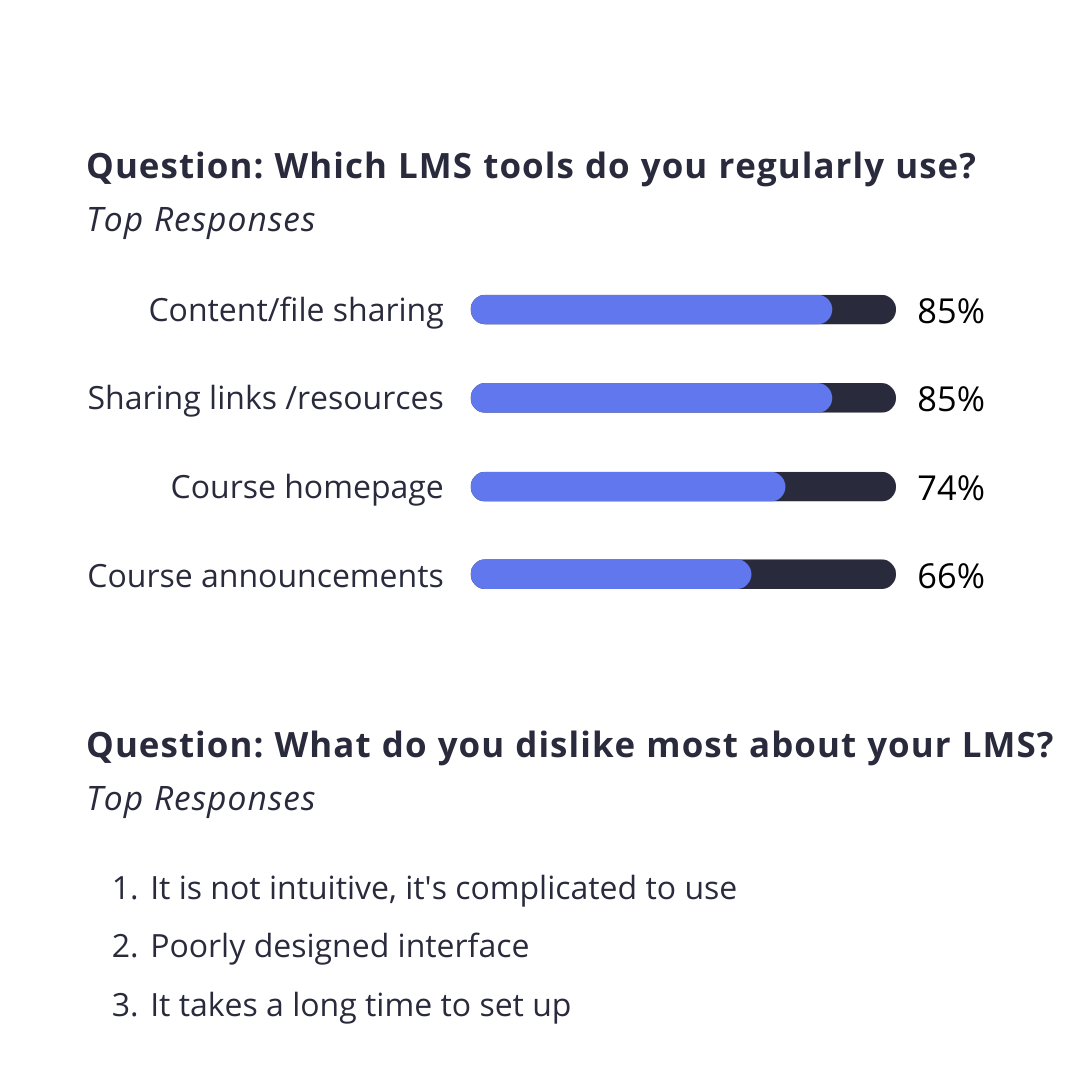 Online Survey
In the final step of my research, I created a survey to gather qualitative and quantitative data on attitudes and behaviors of university faculty. The survey focused on three main topics: commonly used features, satisfaction with specific features, and overall satisfaction using an LMS platform.
10 Questions | 28 Responses
Average education experience: 16 years

Average age: 35-54 years old

Most used Moodle LMS

Users liked having a digital space to organize content and upload links/documents for students

Some participants reported that they did not use a LMS because they did not have time to learn it and because it is too complicated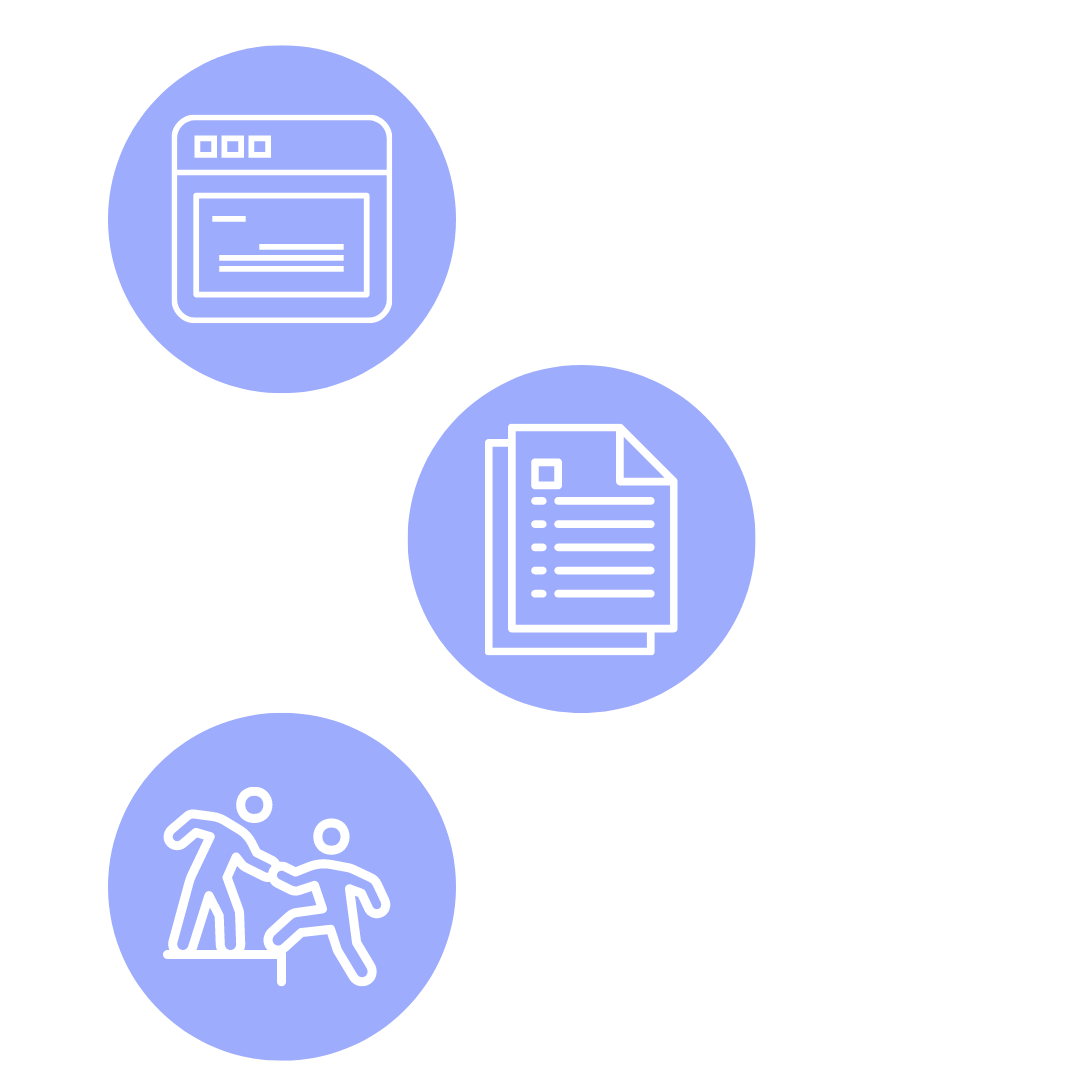 Research Insights
Standardized Template
The trade-off between customization and complexity is not well defined. Most users I spoke with would like to have more consistent layout "templates" and fewer tools to choose from.
It Needs to Help Organize
The LMS needs to help students and faculty access files and links, understand their tasks, see their schedule, and other key academic duties. Organization was mentioned by most users.
Helpful Set Up
Even for more tech-savvy users, setting up classes is difficult, especially for first time users. Training is underutilized. Users have a hard time choosing tools that will be right for their class.
PART II
Understanding Users & Their Goals
In part two of the project, I created deliverables to better understand and empathize with LMS users. I then began to think of solutions that would address their needs and challenges.
User Personas
Based on what I learned through the interviews and survey, I developed two different LMS user personas. I referred to them throughout the entire design process:
Academia Andy is a longtime university professor. They have not seen the need for using an LMS in the past and likes doing things the way they've always done.
EdTech Erin is an assistant professor early in their teaching career. They are interested in the future of education and like to up to date on the latest technologies.

User Journey
I mapped out the steps my personas might take while using an LMS platform by examining the main touch points before, during, and after their interaction with the LMS. There were several pain points for each persona:
Academia Andy has trouble setting up his course for the first time. They find the set up process confusing and time-consuming. They resort to calling IT Help for set up assistance.
EdTech Erin is comfortable setting up her LMS home page but has trouble figuring out which quiz app to use for her class.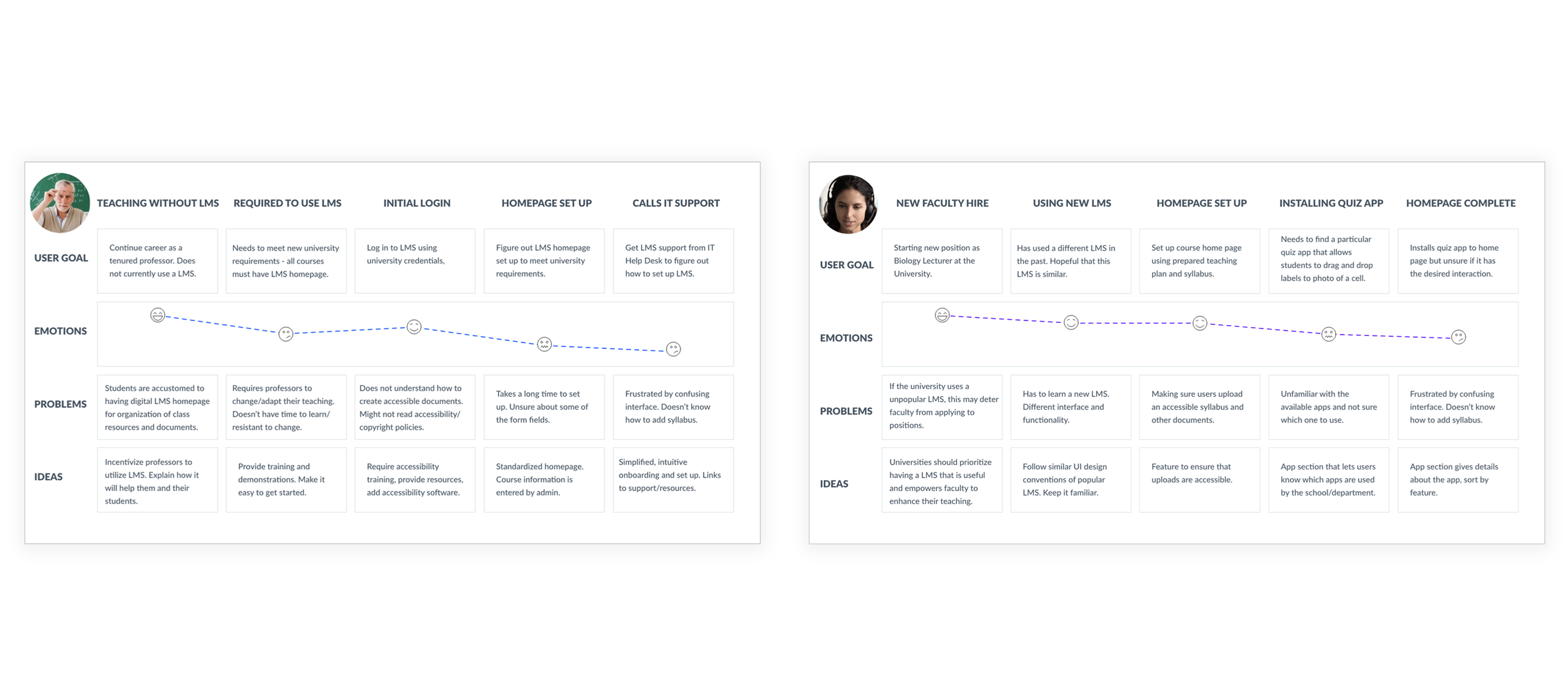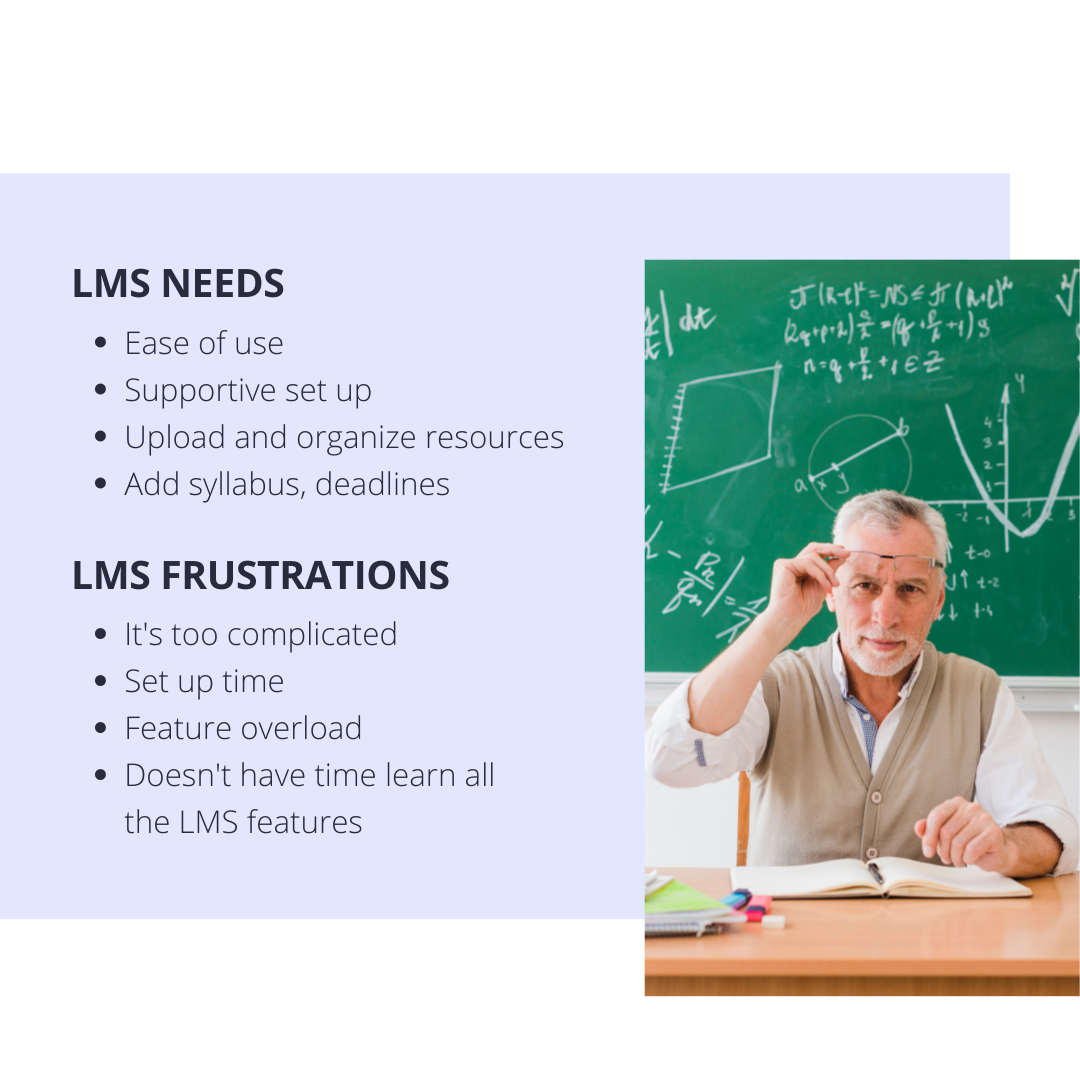 Design Solution
Empathizing with users through my personas allowed understand the needs, pain-points and barriers to using LMS platforms. I was able to come up with hypothesized solutions to address these challenges.
Academia Andy
Problem: Andy is a longtime university professor who has relied on paper handouts, quizzes, and assignments to teach his in-person classes. When the university requires that professors set up a LMS homepage for their classes, he is overwhelmed and frustrated by the complicated set up process.
Solution: Andy needs a simplified guided course set up experience so that he can easily add the required content to the LMS. He needs a standardized homepage template with sections that he can easily add content to.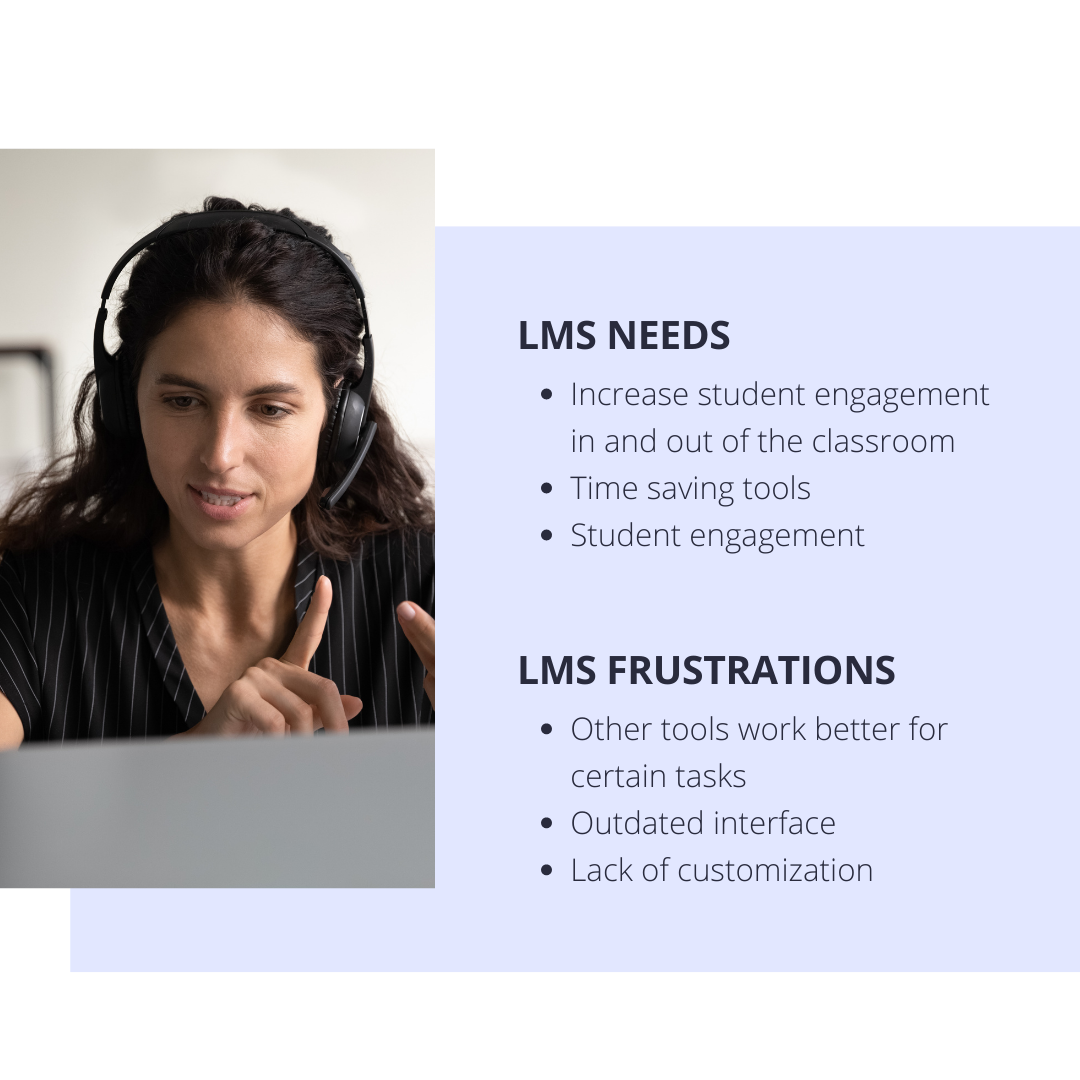 EdTech Erin
Problem: Erin is an assistant professor who has experience using several LMS platforms and is comfortable setting up courses and activities for her students to access outside the classroom. The current quiz tool in the LMS doesn't allow her customize her quizzes or add interactions she feels would benefit her students.
Solution: Erin needs a simpler way to find and add relevant apps to her LMS courses. She needs to see a list of apps that are vetted by her department so that she knows what will work best for her class.
PART III
Creating the Solution & Testing
In the third phase of this project, I began to design solutions that would address the challenges of the personas. Before I began sketching, I knew I needed to focus on:
Designing for desktop, this was based on survey feedback.

A set up process for new users as well as a standardized home screen template.

A better way to view and add apps to the home page.

Follow some existing design conventions of current LMS platforms.

Accessible design is a must.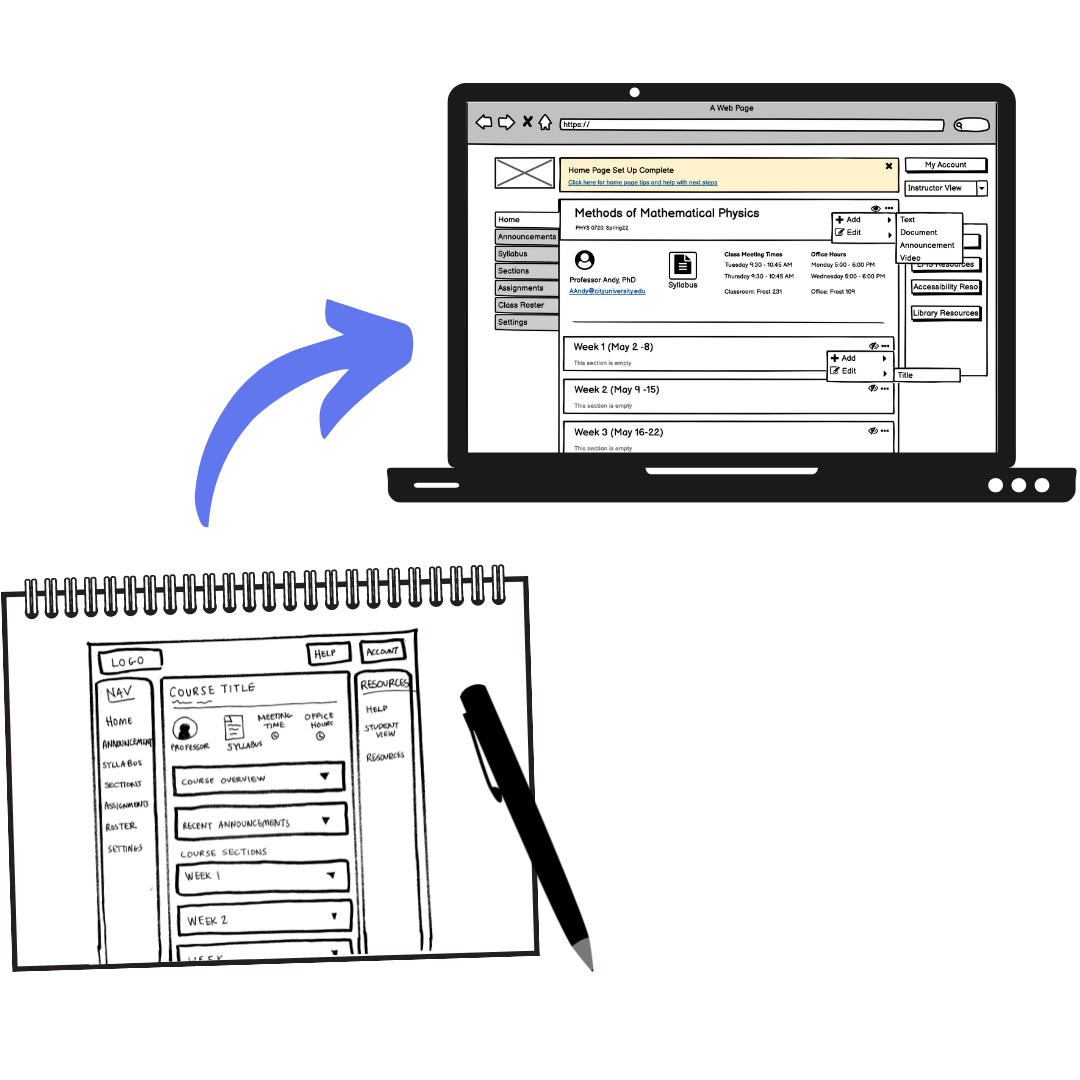 Sketching & Wireframing
At the beginning of my design process, I started sketching some potential layouts for the course home page. Based off my initial sketches, I created low fidelity wireframes using Balsamiq.
My wireframes went through several iterations, increasing the level of fidelity and functionality so that they could be used for usability testing.
One particular feature that I added was a dropdown menu that allows a user to choose between three different courses. This feature was included in order to allow users to quickly jump between courses without having to scroll through all of their options.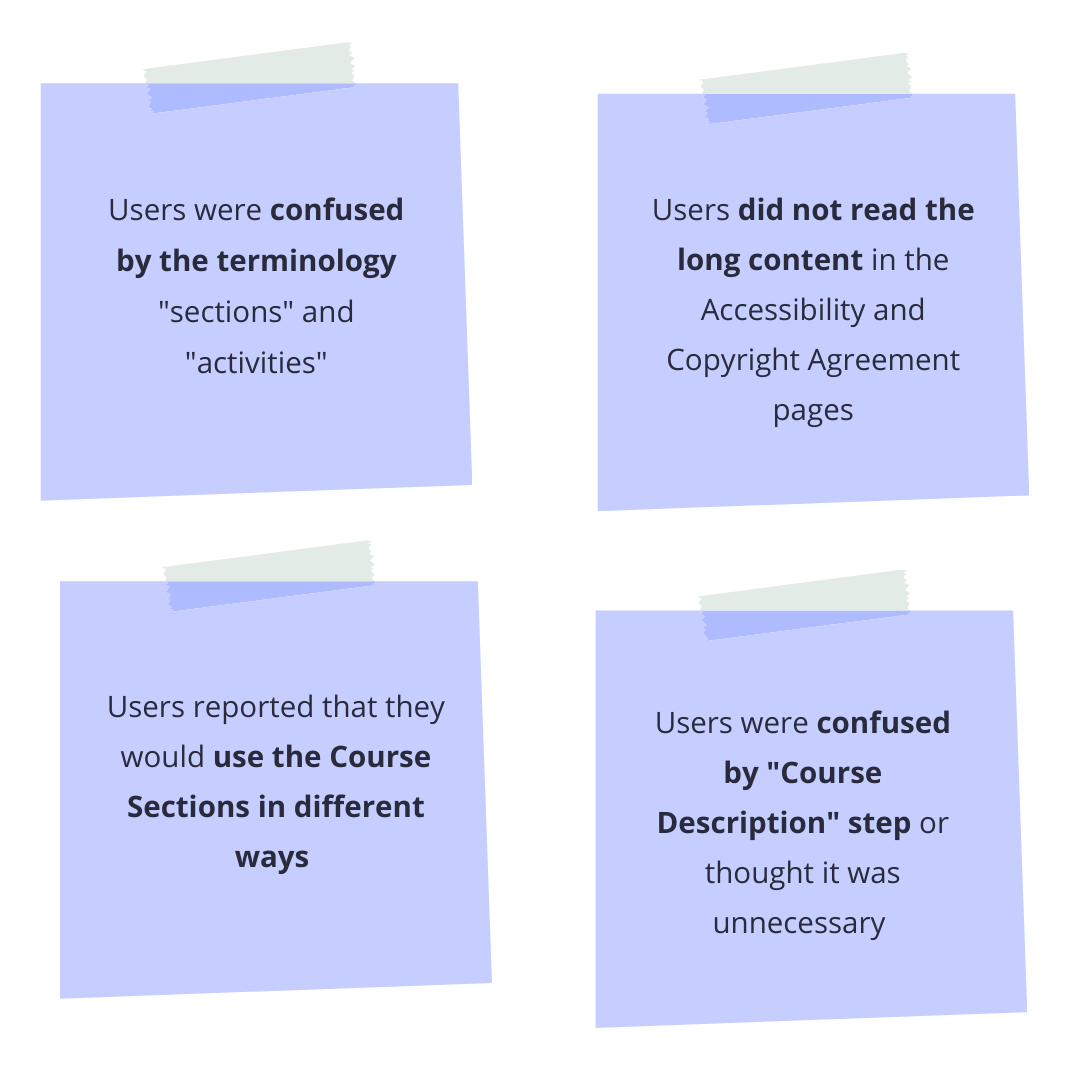 User Testing
In order to identify and prioritize the strengths and weaknesses of the design, I conducted three remote moderated usability tests with users within target demographic and with varying levels of LMS experience. I tested specific tasks using the "think aloud" protocol.
The first test was conducted with a user who had used an LMS for three months or less. The second test was conducted on a user who had used LMS about a year. The third test was conducted with a user who had used LMS for more than three years.
I recorded each test and collected data for each of the performed tasks. In addition, I asked participants to rate their satisfaction with the experience based on how well they understood what they were doing and how easy it was for them to learn how to use their system.
UI Design
Based on testing feedback I iterated my designs and moved them into AdobeXD to create a high-fidelity prototype.
Features
User dashboard

Guided course set up

Accessibility tool

Standardized homepage template

Student view toggle

LMS resource panel

App recommendations
PART IV
Final Results & Conclusion
The final step in my project was a presentation of my research findings and high-fidelity prototype to the Brandeis Learning Implementation Committee. The presentation delivered insights and recommendations as the committee develops a strategic plan for the implementation of a new LMS at the university.
Conclusion
By understanding and addressing the challenges of faculty, I implemented solutions into an improved design that would make it easier for professors to utilize LMS platforms into their in-person teaching methods. I believe that these solutions will increase the adoption of LMS platforms in in-person learning.
It is clear that the industry of education is changing. The traditional models of higher education are no longer sufficient for students, faculty, and their institutions. A newly designed LMS with an intuitive interface and easy set up process is a nice start. However, faculty need training, support, and incentives to be able to adapt to the new landscape.
Institutions need to evaluate and adapt long-term changes that keep their curriculum flexible and inclusive. The industry of education is changing so it's time for academia to change with it!
Project Deliverables